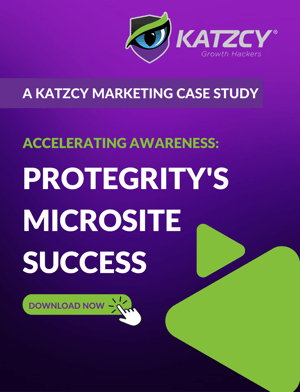 Katzcy built a microsite that got
84,000 Views
within 3 months

.
Want to know how?
Katzcy created an impactful microsite with a tight turnaround. Download our case study to learn:
The client's challenge.
Why they chose Katzcy to solve their challenge.
Katzcy's process in addressing the challenge.
Why the client rated their satisfaction with the outcome, "On a scale of 1 to 10, it was a 12!"
Complete the form on this page and get instant access to the case study.
"I didn't have to explain to you what we do. You understand the cyber security market."
—DOUG VINSON
Vice President, Global Demand, Protegrity

To see exactly what we did and how we helped, please complete the form below.